Vision in a Box Brunch
October 15, 2016 @ 11:00 am

-

2:00 pm

EDT

$25.00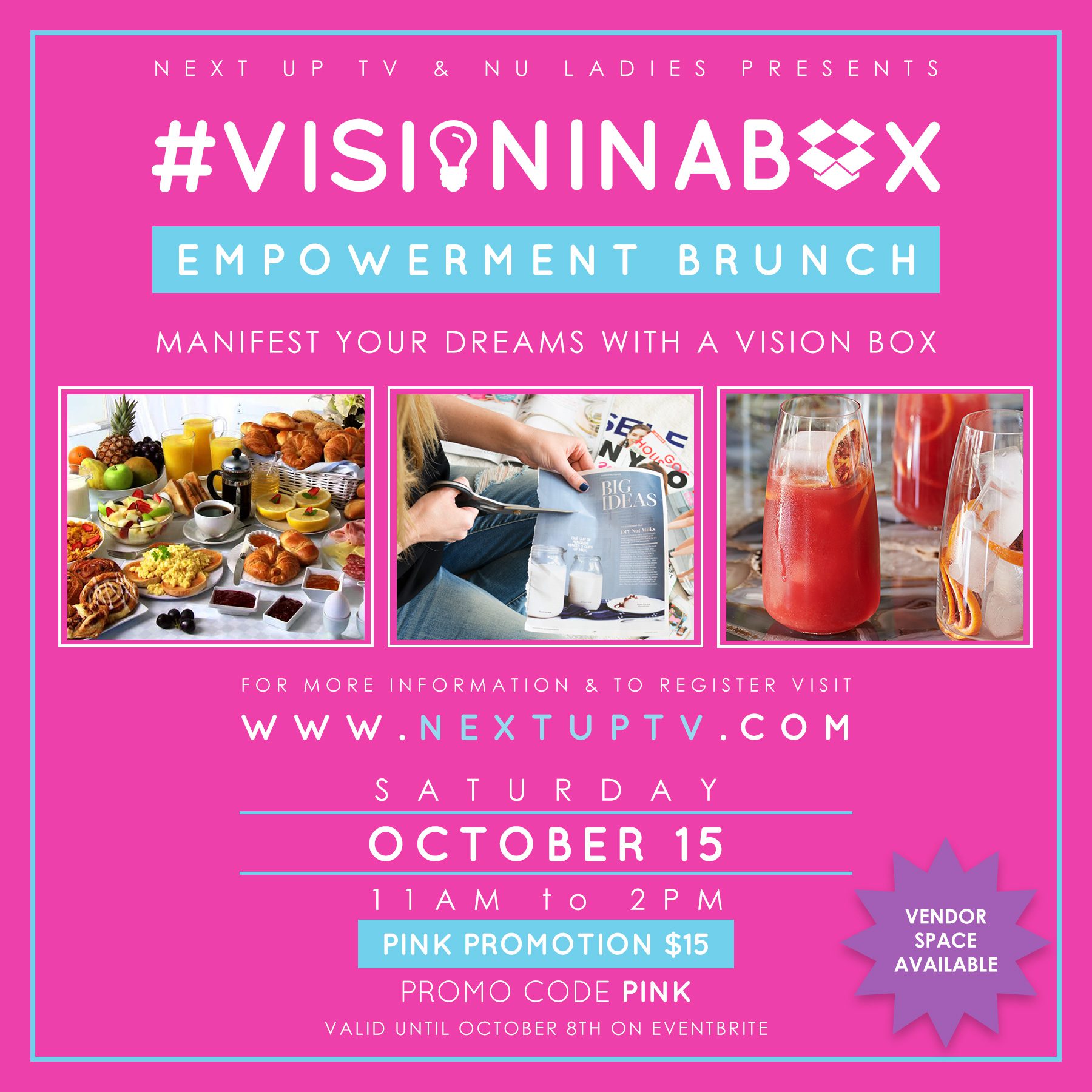 Nu Ladies and Next Up TV Presents
Vision in a Box Brunch
Attend our Vision In A Box Brunch!  The purpose of this event is to create a Visual expression of your desires and aspirations.
The Vision in a Box idea stems from the same concept as the Vision Board. The Vision in a box is more personal because you place your ideas inside of a box, and each time you open that box you are figuratively looking inside of yourself. You will personally gather a collection of images, quotes, and items that represent your ideas of the future life you would like to live. The more you are able to visualize your dreams, goals, aspirations, and anything else you believe you want to experience in this life, the more you set the intention of having these desires manifest. By creating your vision, within a box, you are creating a personal mold for yourself. A personal reminder to "think inside the box", but only the box that you create for yourself, and since it is your creation it can be altered at your will. We will begin the creation of your Vision in a Box today, but we hope that you will utilize this Box every day on the journey towards manifesting your dreams.The exercise of creating a Vision in a box allows you to organize your thoughts, clarify your goals and focus on the outcomes you believe will make you happy. Creating a Vision in a Box is fun and powerful! It inspires you to take action and visualize your goals daily.
This event allows you to use your own creativity in a positive, supportive environment and connect with other visionaries. Let's close out the final months of 2016 with more abundance & prosperity!
All materials are included (boxes, magazines, glue, scissors).  You will need to bring any personal photos and/or arts & crafts you would like to include in your Box.
Dress code Classy Casual
Refreshments provided
Advance tickets $25
Purchase your tickets HERE!
To purchase your tickets on the Eventbrite, click HERE!